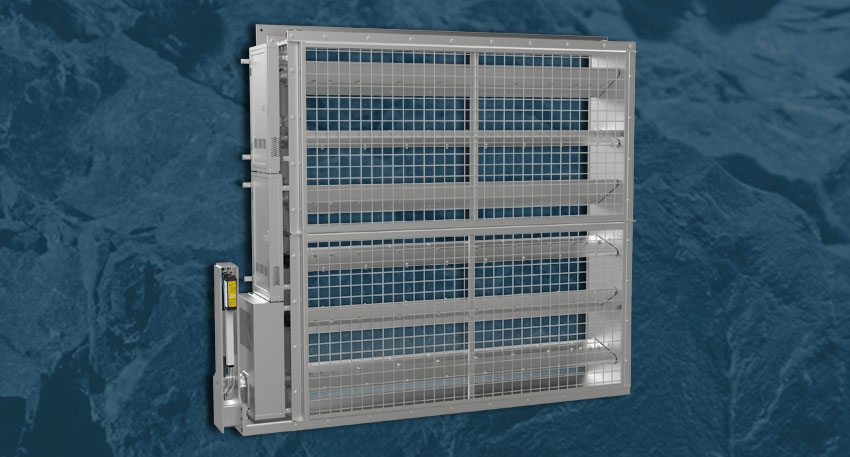 The MaestroFlex™ automated regulators, replacing manual drop board regulators, are designed to exceed underground applications requiring adjustable airflow rates to match changing environmental and mobile equipment demand.

The opposing blade design provides optimal flow control over large ranges allowing its use in Ventilation on Demand (VoD) applications.
MaestroFlex™ automated regulators are used for all forms of ventilation controls:
Manual based control systems
Time-of-Day control systems
Event-Based control system
Real-Time (VoD) control systems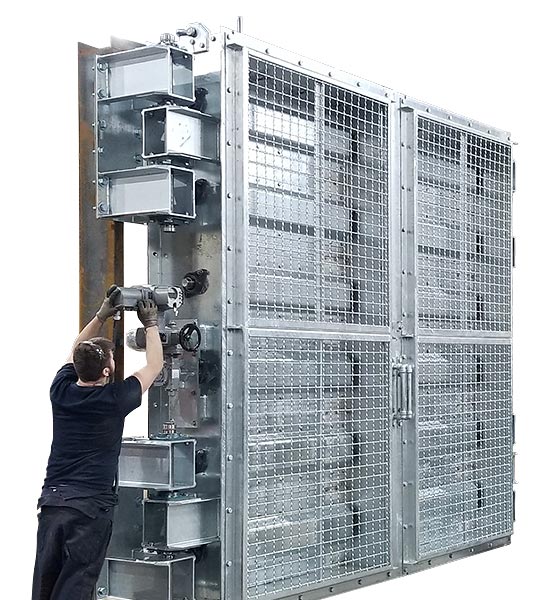 MaestroFlex™ automated regulators are designed to meet the harsh underground mining drill and blast cycles for decades of service. ModuDrive™ digital IIoT actuators provides real-time diagnostics that allows troubleshooting from surface through MaestroLink™ Server.

The MaestroFlex™ regulator is used to automatically adjust the airflow on operating levels. Often installed either at the fresh air raise or return air raise and in some applications at both. The automated regulators replace drop board manual regulators that cannot be adjusted from surface, thus enabling operators from surface the ability to control ventilation as required either manually or using VoD software.

MaestroFlex™ automated regulators have been used in critical 24-7 underground mining applications since 2007 and have been designed to withstand both continuous operation and blast concussion.
MaestroFlex™ automated regulators drive out significant CAPEX by eliminating expensive PLCs, transformers, engineering services and panel fabricators. MaestroFlex™ regulators provide a simple connection to any network switch and allows complete control, monitoring and real-time diagnostics over Modbus TCP/IP or EtherNet/IP™ communication protocols.

Why do mining engineers choose to select MaestroFlex™ automated regulators?
Adjusting ventilation, level by level, by controlling airflow quantity and quality assures worker health and safety as well as regulatory compliance.
Scheduling regulators to fully open before the blast cycle improves blast clearance times and allow miners to return to the face quicker and safer.
Reducing energy costs and GHG emissions by providing adequate ventilation to the operational areas of the mine versus ventilating all levels equally.
Delaying major capital-intensive projects like additional air raises, booster fans and larger primary fans by reducing the amount of ventilation in areas that are non-operational.
Contact Us to learn more at This email address is being protected from spambots. You need JavaScript enabled to view it.
For support, please contact: This email address is being protected from spambots. You need JavaScript enabled to view it.
DOWNLOADS