THE SUPERBRITE™ MARQUEE DISPLAY IS A FULLY MINE-HARDENED, LARGE DISPLAY DESIGNED TO INTEGRATE WITH PLC, HMI OR SCADA SYSTEM.
The newly improved SuperBrite™ Marquee display uses state-of-the-art tri-colour LED's (green, amber, red) arranged in a total of eight fully addressable lines that can be viewed by two alternating pages with four lines on each page.


Maximum Flexibility with Minimum User Effort.
Making the complex-simple, each line can be populated by four different methods: Modbus TCP/IP registers, EtherNet/IP™ registers, text entry via the built-in webpage or HTTP POST message using JavaScript Object Notation (JSON).


Worker Safety at Work – 100% of the Time.
Text messages can be written to the display on an ad hoc basis. As an example, a control operator may post an emergency text message on the level display, like "RETURN TO REFUGE STATION". The text can quickly be added to the display from any PC on the network via the display webpage or through the mine control system.


The Only Fail-Safe Sign in Mining.
Miner safety is paramount and the SuperBrite™ Marquee provides full fail-safe benefits so that only current information is displayed, preventing unsafe old data from remaining on the display when the network is offline.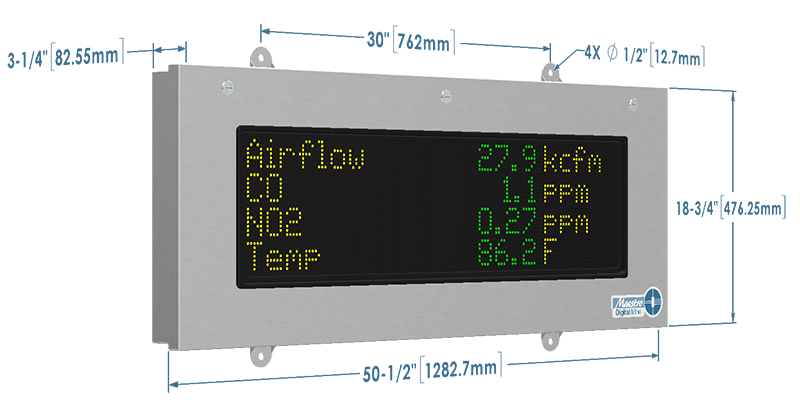 For support, please contact: This email address is being protected from spambots. You need JavaScript enabled to view it.
DOWNLOADS