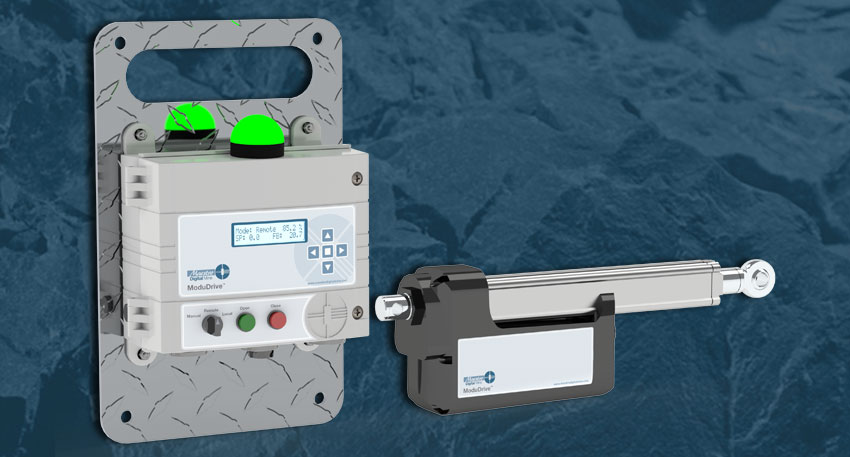 Real-time diagnostics that allow troubleshooting from surface assuring maximum uptime and safety.

The ModuDrive™ Industrial Internet of Things (IIoT) linear actuator provides the ultimate in reliability, precision and high thrust in a compact and robust enclosure. The edge based actuator provides full feedback and health conditions thereby providing maximum uptime and performance.
ModuDrive™ IIoT linear actuators are used for rotary or linear control and positioning:
Automated ventilation regulators and louvers
Automated safety gates for ramp traffic control
Automated ventilation dampers
The ModuDrive™ IIoT linear actuators are 100% electric operated, reliable and simple to apply. The system consists of a remote electronics controller and fully electric linear cylinder providing real-time diagnostics allowing troubleshooting from surface through MaestroLink™ Server.

Installation signatures can be captured comparing the operation of a new application overtime thereby providing early detection of potential failure points.

Smart IIoT actuators provide service counters for starts/stops/total run time, over/under voltage, power failures and min/max internal temperatures providing maximum up-time and worker safety.

Full feedback data on the stroke position, current draw and internal temperature provides early warning of bearing or blade damage on regulators, stuck or broken safety gates or duct blade damage on dampers to allow scheduled maintenance.
Why do automation & mining engineers choose to select ModuDrive™ IIoT linear actuators?
Eliminates expensive and maintenance intensive hydraulic and pneumatic actuators.
Reduces CAPEX by eliminating hydraulic powerpacks or systems to drain water from compressed air lines.
Reduces OPEX by providing real-time advanced diagnostics through MaestroLink™ Server on any desk top PC.
Simple connection to any electrical power source and network connection.
Soft start and stop functions to eliminate damage from inertia.
For support, please contact: This email address is being protected from spambots. You need JavaScript enabled to view it.
DOWNLOADS