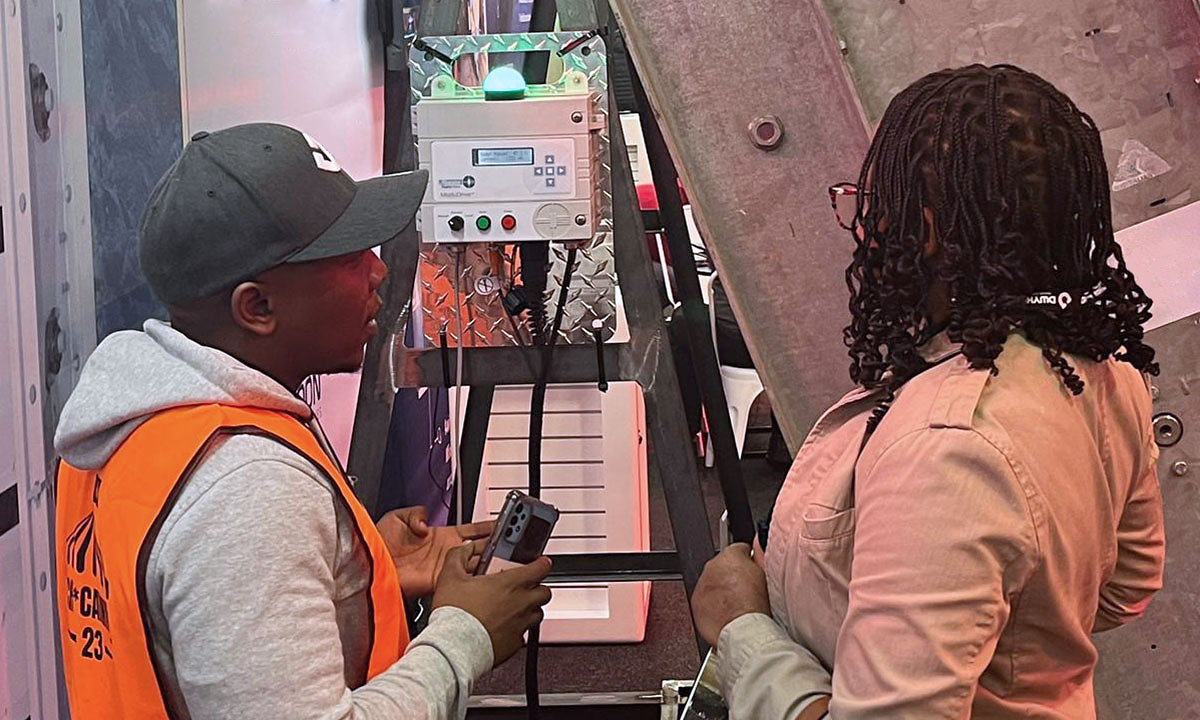 Article by Celeste Koortsen from Creamer Media for Engineering News and Mining Weekly, May 2023
Maestro debuted its MaestroFlex™ Automated Regulators at the Gallagher Convention Centre, in Midrand, Gauteng, from May 17 to 18.
The automated regulator, which uses the company's ModuDrive™ digital IIoT actuator technology, replaces manual drop board regulators that cannot be adjusted from the surface, enabling operators on the surface to control ventilation as required either manually or using Ventilation on Demand software.
The products exemplify the company's commitment to developing cutting-edge IIoT devices and digital networks for the underground mining sector.
"These solutions represent our ongoing effort to revolutionise the mining industry by enhancing worker safety, productivity, energy efficiency, and environmental sustainability.
By showcasing our solutions, we aim to demonstrate our role in increasing mining, production and worker safety as well as decarbonising the planet by reducing underground mines' electrical energy consumption," Jacob Lachapelle, CIT of Maestro, explains.
The Plexus PowerNet™ is the first gigabit network providing data and power using coaxial cable and delivers real-time data that enables improved decision-making at mining operations.
Using the network to facilitate power and network advancement enables Maestro to implement its air quality monitoring solutions, which can optimise ventilation, allowing mines to focus on increasing production by getting more time at the working face.
Other benefits include increased equipment uptime, as airflow is directed as needed to necessary areas to enable the operation of more high capital, required equipment.
"By tailoring your ventilation to the areas where it's required, you can bring down your overall electrical demand on your ventilation system and reduce energy consumption. Thereby, our solutions contribute to a more sustainable and efficient mining industry.
"Moreover, with the rising adoption of battery electric vehicles and underground mining, our technology plays an essential role in addressing the growing demand for that electrical energy and ensuring efficient energy management," explains Lachapelle.
He emphasises that mining companies are investing significant resources into ensuring that their mines continue to operate 24/7, especially in countries with unreliable power supplies.
Maestro decided to exhibit at the Dwyka Tech*Carnival owing to its longstanding relationship with mining technology platform Dwyka Mining Services, which dates back to 2014.
"Dwyka MD Jamie van Schoor and I are both passionate about revolutionising the mining industry with cutting-edge technologies.
Our successful collaboration with Dwyka has led to products being deployed at over 25 mines in nine African countries. So, exhibiting at the Dwyka Tech*Carnival allows us to celebrate our shared journey with Dwyka, showcase our solutions and engage with the African mining community."
Read the full article (page 38) here.
Read the PDF version of the article here.