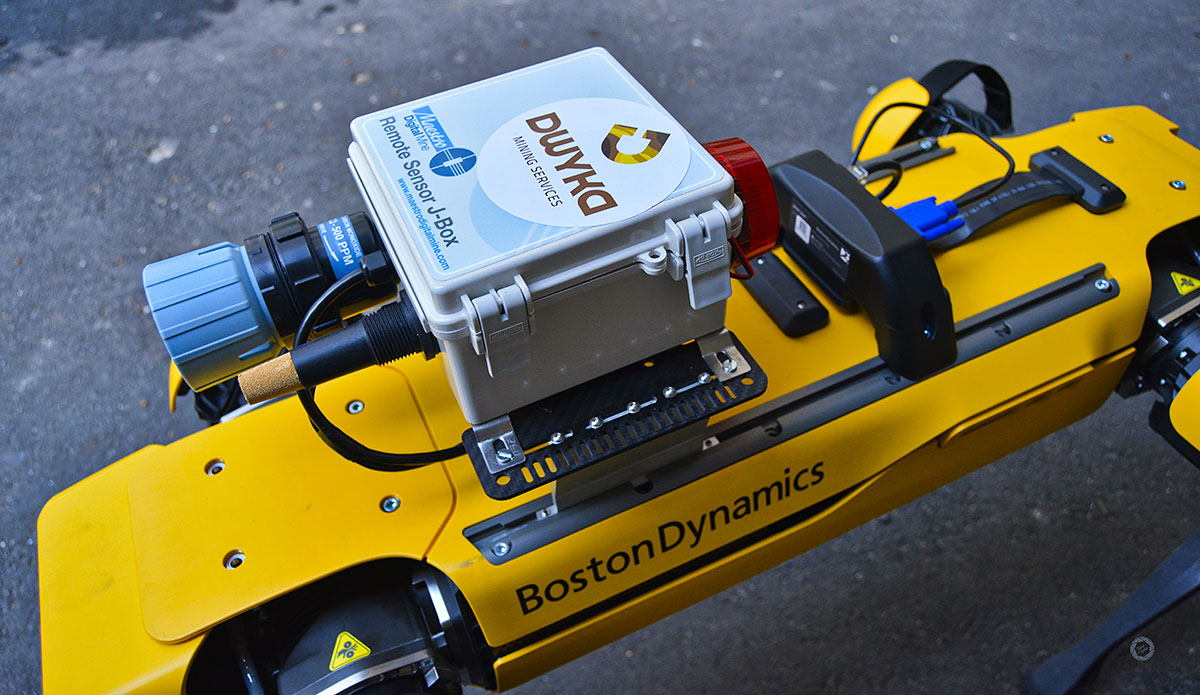 On the Move Monitoring
Article by Daniel Gleeson, part of the Mine Ventilation feature of the July 2022 Edition of IM.
The Sudbury-based company has become synonymous with improving underground mine ventilation safety as well as reducing blast re-entry times, with an offering that includes air quality stations, automated regulators and "fail-safe" LED displays. Its core remains IIoT devices and last mile digital networks for underground mines.
At the recent 2022 Investing in African Mining Indaba, in Cape Town, South Africa, Dwyka Mining Services, an authorised reseller of Maestro, made a splash, premiering a new robotic solution fitted with Maestro's IIoT gas sensor.
The Boston Dynamics Spot Enterprise robot, equipped with Maestro's IIoT gas sensor, can be operated on mine sites to detect hazardous gases like carbon monoxide, without putting mining and ventilation teams in danger. Ventilation and mining teams will easily be able to add different gas sensors onto the connected Zephyr Air Quality Station, capturing critical environmental data to proactively identify gas or temperature challenges, according to the companies.
Using Spot Enterprise on-board processing, the data is shared wirelessly over Wi-Fi, and gas and temperature sensor readings are captured while the robot is in operation and displayed in real time via the Maestro Link™ Server application.
"This relationship will open up immediate opportunities to Dwyka Mining Services and Maestro in Africa and extend mobile environmental monitoring to our current installations at over 170 mines in 38 countries globally using our patented edge-based IIoT sensor technologies once the solution is fully embedded."
The debut of the Spot/Zephyr AGS™ combination follows hot on the heels of another partnership with Exyn Technologies that has seen an aerial drone with a Maestro gas monitoring IIoT device fitted on it come to the fore.
This new gas monitoring drone, which will integrate critical gas sensors onto the ExynAero™ and ExynPak™ platforms, is, effectively, the "quickest and safest mobile gas monitor on the planet", Gribbons says. "The drone is able to automatically launch and log targeted gases directly on the point cloud in any confined area without deploying mine rescue personal with Scott Air-Paks."
This, in turn, improves worker safety and accelerates the time to obtain accurate data in emergency conditions or for more granular data at the headings for reducing blast re-entry times, he added.
Powered by ExynAI's multi-sensor fusion capabilities, gas sensor readings are captured while the robot is in flight and displayed in real time via a ruggedised tablet, Exyn explained. These sensor readings are saved with precise coordinates in a high-fidelity point cloud that can be exported and examined in a variety of mining software.
Performance Across the Fan Curve
Maestro is also involved with ventilation developments at the Odyssey project in Quebec, Canada, part of the Canadian Malartic mine.
This project, owned through a 50:50 joint venture between Yamana Gold Inc and Agnico Eagle Ltd, will see an underground mine developed beneath the existing open-pit operations. The future Odyssey Mine will be accessed by a ramp and a shaft estimated to be 1,800 m deep.
The owners of the mine have already gone on record to say that Odyssey will feature an LTE mobile communication network, an automated fleet of 60 t trucks operated from the surface and on-demand ventilation.
Maestro is set to provide 4 x 4 m MaestroFlex™ regulators to the mine, which will help control three underground booster fans from Spain-based Zitrón.
Louis van Wyk, General Manager of Zitrón North America, says these 2.3-m diameter, 1.6 MW booster fans are some of the largest the company has supplied to underground mines.
"This is quite a big installation underground," he said. "Normally booster fans – which mostly assist the primary fans sitting on surface – are 500-600 kW."
Van Wyk said the company was about 80% through manufacturing these fans, with – at the time of IM's call – factory testing at Zitrón's facility in Spain coming up.
Read the complete article in the IM Digital Magazine here.