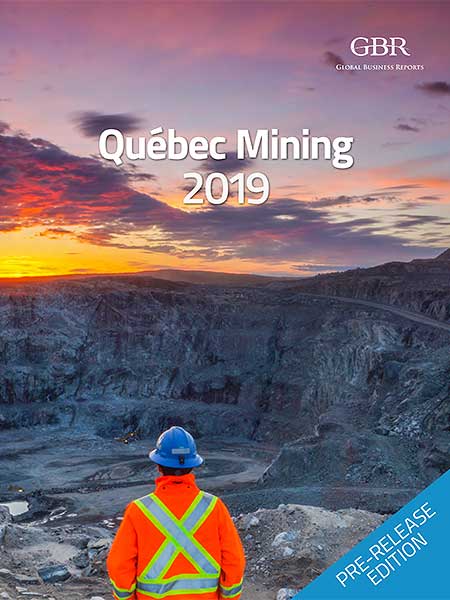 The Global Business Report's Quebec Mining Report to be launched at the upcoming CIM conference in Montreal, features mining companies and suppliers making an impact in the Quebec Mining Industry.

View Pre-release of Global Business Report's Quebec Mining Report HERE.


GBR's interview with Michael Gribbon's Vice President of Sales and Marketing and Co-founder, Maestro Digital Mine.

Can you introduce our readers to Maestro Digital Mine and the company's evolution?
Maestro provides Industrial Internet of Things (IIoT) solutions to the global mining industry. Today, Maestro Digital Mine provides a complete mine ventilation and automation network backbone and rugged IIoT devices designed specifically for underground mines that deliver energy savings and productivity improvements while meeting the highest health and safety standards.
We are based in a 150-year-old mining area known as the Sudbury Basin. We decided to shift the focus of our business to exports due to the technological gaps in the underground mining sector. We started creating digital solutions for ventilation monitoring and controlling for the underground mining sector. The ventilation solutions improve the underground work environment while still providing the mining companies a solution to increase production, conserve energy and reduce greenhouse gases. As mines go deeper, temperatures rise and require more energy to adequately ventilate, which then becomes a greater financial factor. We quickly realized that our customers faced significant challenges to obtain real time data at the face in terms of simplicity, cost and the ability to advance the network using any tradesperson or development miner.
Will the growth in the renewable energies sector result in less need for ventilation?
We do not believe this will happen because a mine still needs to be cooled and ventilated. The amount of ventilation required could reduce in real terms, especially if it is a shallow mine. If it is a deep mine, environmental conditions need to be controlled to ensure the safety and comfort of underground employees. The advent of our ventilation equipment has assisted mines in reaching depths that, 20 years ago, were not financially viable to access.
What is the Plexus PowerNet and how did the idea come about?
Currently, our flagship product the Vigilante AQS™ is a complete air quality monitoring system that accurately measures airflow rate, direction, wet and dry bulb temperature, gas concentration and dust particulate – enabling miners to return to the face sooner and safer. This product is compact, easy to install and easy to train people to use. Best of all, the system is 50-70% less expensive than alternate conventional options.
The Plexus PowerNet™ is our newest digital solution and quickly becoming a best seller. Collaborating with mining companies around the world to address the challenges that many of our customers encountered when connecting our ventilation solutions to their own networks, we identified a gap in the market. We aided in tackling the challenges associated with traditional communication backbone solutions (broadband and fibre). The Plexus PowerNet™ system quickly extends communications using existing infrastructure to the working face. Plexus PowerNet™ delivers a high bandwidth, low latency digital communication network that provides PoE+ power to Wireless Access Points (WAPs), cameras and any other IP based device. The system eliminates the need for costly outside fiber optic contractors and can be installed and maintained by any internal tradesperson or development miner.
With factors such a blast concussion and damage due to mobile equipment movement, fiber optic cabling is at a major disadvantage. We designed a last-mile communication leg to extend the network from the level entry network switch to the face. The reach from the substation to the inner workings of the mine vary, but we haven't seen anything further than 700 m. We now provide MHSA approved flexible stranded coaxial cable that provides gigabit data and power right to the face.
You do hardware and firmware design in house. Why have you chosen that model?
Many mine supply companies will purchase commercial-grade equipment and wrap it in a hard box. This frustrates the mining industry as commercial equipment is available relatively cheaply, but product design or software changes to these products are not possible. We have the ability to adopt new ideas from our mining customers and produce a product totally in-house. This allows us to come to market quickly and continue to make incremental changes to improve the product.
What are key features a mining company needs to take into consideration when selecting new technology?
Some rapidly expanding companies have installed technology that was not suited for underground requirements and very difficult to maintain and advance. We urge our mining clients to test their proof of concept for all current and future applications before deciding the best methodology. Some have succeeded, but we believe it is better to do a few levels to ensure that all the moving parts work correctly. Capital can then be raised once the technology has been tested and approved. Start small, prove the technology and then move quickly to a full mine wide solution.
Does Maestro Digital have any new products launching soon and what are the future objectives for the company?
When the Plexus was launched, it began with a change from a rigid cable to flexible coaxial cable and was completed within six months with one of our partners. Other changes were carried out from a security standpoint – servers are being hacked and mining companies are very cautious. Ensuring we were up to date with all security features was critical to us and our customers. Smaller companies tend to have less stringent software security requirements than the bigger companies such as Barrick, Goldcorp, BHP and Glencore. Thus, our engineering costs are very high as we progress past the original project requirements. We believe it is the correct way to do it, but it involves a massive investment in capital on our part.
We have four new products in the pipeline for this year. The Vigilante AQS – our best-selling air quality monitoring station – is going through a complete redesign. It will have on-board Wi-Fi 802.11, Bluetooth and LTE wireless communication capabilities. Another product we just launched at SME conference in February 2019 is called EthernetI/O™ that provides both remote I/O functions as well as two full PID control loops over standard industrial Ethernet communication protocols. EthernetI/O™ helps to reduce or eliminate the use of complex and expensive PLCs in the underground mine environment, saving both time and money. Maestro has successful deployed this solution in some of the largest global mining companies which include Rio Tinto, BHP, Vale and several small to medium sized mining operations.
What is the vision for Maestro Digital Mine?
Our vision is changing the way that underground mines communicate and to strip out complexity in automation jobs and make configuration flexible and easy.
Since its inception, Maestro has morphed into a technology company. Maestro Digital Mine manufacturers IoT and control instrumentation for the optimization of underground mine ventilation and underground digital networks for last mile communication. It works on concepts like how to apply IoT technology to systems, sensors and processes. The ultimate goal is to facilitate increased production rates and worker health and safety improvements while at the same time driving down equipment and installation costs. Current installations at over 120 mines globally aligns Maestro as a global leader in the IoT underground sector.


Read GBR's interview with Michael Gribbon's Vice President of Sales and Marketing and Co-founder, Maestro Digital Mine on their website here.