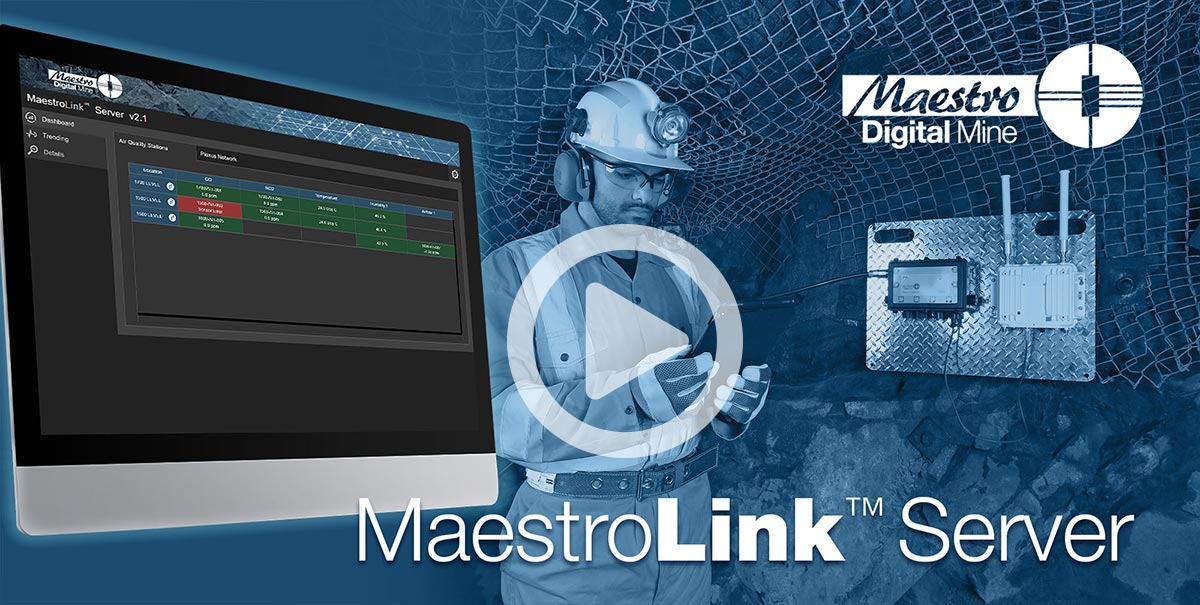 International Mining Magazine – February 2021 Issue
Check out the full Mining Software Feature Article here.
For more information on IMM, visit im-mining.com.
No modern mine is short of data, but what these operations continually lack is an ability to fully leverage this data across processes.Dan Gleeson speaks to those in the mining software space to find out how far off the industry is from 'connecting the dots'
With its IIoT devices and solutions – such as the Vigilante AQS™ and Zephyr AQS™ air quality stations to measure environmental conditions in real time – now installed in 34 different countries and over 145 underground mines in less than 10 years, Maestro Digital Mine's success is known the world over.
All of Maestro's products, including its last mile network Plexus Powernet™, are fully digital and 'connected' to determine the health of the sensors and the complete system.

To leverage this information, the company has developed MaestroLink™ Server to monitor the equipment and allow easy and quick decisions from a centralised location. The software goes as far as indicating what the action response must be.

As Maestro Director of Marketing and Communications, Shannon Katary, says, "data is only useful if it helps determine a decision or action". Maestro has the capability to provide instruction items around its device maintenance, she added. "MaestroLink fits perfectly into our core purpose of enhancing lives by the pursuit of productivity and safety excellence," she added.

All of Maestro's industrial IoT devices use embedded web servers along with digital technology right to each individual sensor, enabling remote diagnostics for solving maintenance problems as well as assuring sensor calibration compliance.
MaestroLink Server is a network-based software platform that features a multi-instance web-based interface to monitor and record the health of Vigilante AQS and Zephyr AQS stations along with the Plexus PowerNet underground communication networks.

Maestro's research, industry client engagement and experience discovered that once new digital hardware is installed underground, it often does not deliver on its full promise of consistent and accurate data to ultimately drive better business decisions. Part of the long-standing problem is assuring the original data is valid, which, in turn, drives end user confidence.

"The requirement to properly diagnose the equipment in real time becomes essential to keep up with operational production demands," the company says.

"With the addition of new digital solutions, the automation and electrical maintenance department is tasked with solving ever more complex problems with resources that have not increased in proportion to the number of sensors and systems that they are expected to support," Katary said.

MaestroLink Server was developed to fill the gap between the requirement of maximising reliable and accurate operational data while reducing the impact and workload of the maintenance and support team, according to Katary.

Once installed, MaestroLink Server reaches out on the network to find and self populate the IIoT devices and network nodes, and begins to monitor both the data and advanced diagnostics of the devices.

The benefits have been seen at a Nevada-based gold mine, which was experiencing ventilation constraints. The mine's ventilation teams meet weekly to analyse MaestroLink Server data and diagnostics. By looking at the data and diagnostics, they can action the maintenance team. They can also determine which ventilation doors have been left open and send a technician to rectify the issue in real time to increase the overall ventilation supply to the working areas.

Such a process effectively makes MaestroLink Server an in-house, factory-trained Maestro technologist and engineer for the mine, working 24-7 and assuring maximum uptime of each digital device, Katary said.

She concluded: "MaestroLink Server saves time and cost by giving miners the ability to poll the diagnostics, and then turn the data into tangible actions from surface before having to go underground. The support team will go underground the first time with the proper tools, spare parts and equipment to do the maintenance once instead of multiple trips."