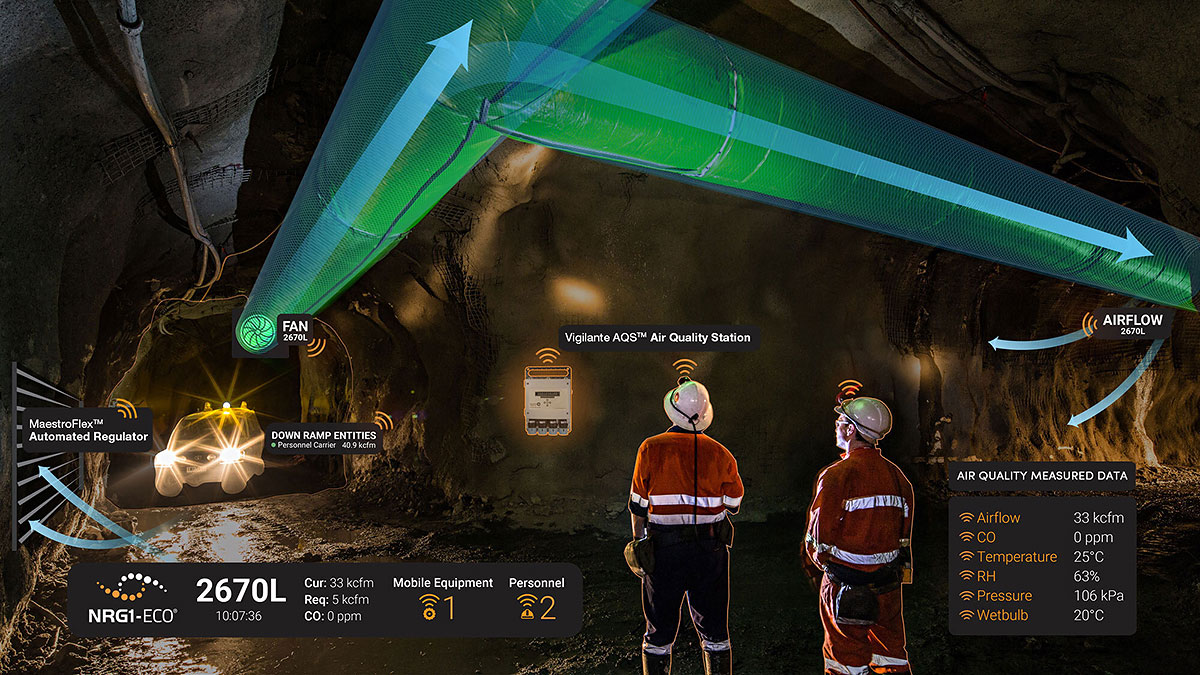 FROM THE FEATURED ARTICLE "VENT TECH SHORTAGE HITS AMID AUTOMATION PUSH" BY JESSE MORTON, TECHNICAL WRITER, WHERE HE LOOKS AT HOW SUPPLIERS FILL THE GAPS, DESIGN OPTIMIZATION PLANS, AND INSTALL HIGH-TECH SOLUTIONS TO HELP MINERS GET MORE TIME AT THE FACE AND REDUCE THEIR CARBON FOOTPRINT.
"Proven energy savings are in the relative range of 25% to 50%," CEO Michael Gribbons said. "Greenhouse gas emissions can be reduced by using less energy. But what goes hand in hand with that is giving miners more time at the face."
Zephyr is a small, lower-cost, condition-monitoring station and AQS. Both IIoT devices have edge-computing and plug-and-play capabilities and can be easily added to networks for integration to ventilation control software, such as the NRG1-ECO from SHYFTinc, VentSIM Control from Howden, or ABB's Ability, for an automated VOD solution.
"It is about disruption by elimination," Gribbons said. "That is really the strategy behind our approach." The stations can eliminate engineering work, drawings, cabinet designs, approvals and wiring. Other savings come from the reduced space, reduced complexity and the increased real-time data.
For example, Vale's Totten copper-nickel mine, in Ontario, deployed Vigilante AQS™ on an Ethernet network, and the NRG1-ECO to manage an ABB fan control. The VOD solution was ramped up in phases over a period of three years, with the initial expectation of a 50% reduction in energy demand. Ultimately, however, the total achieved savings hit a whopping 61.6%.
Totten "is a great example of NRG1 integrating directly to our digital devices," Gribbons said. "Totten has publicly announced there are capex savings of more than 45% for just the first round of Vigilantes."
Open architecture allows for easier installs and maintenance and gives the miner sovereignty over the data. Gone is the perpetual scrap over who technically owns the data, which customers love.
Read the complete article online here.