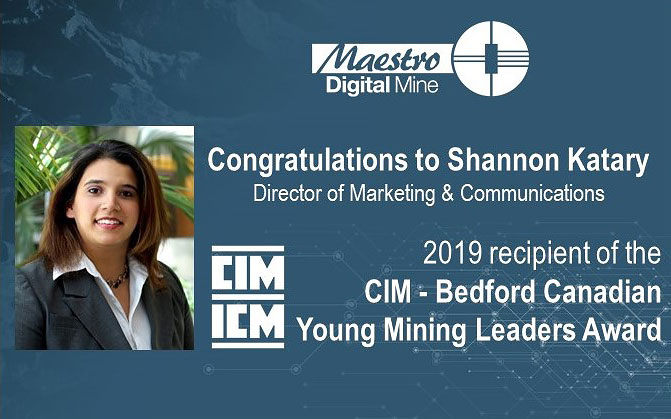 Sudbury is known for mining excellence and over the years several Sudburians and Sudbury based operating mines and service and supply companies have been recognized for their achievements through the CIM National Awards. CIM 2019 convention would continue this tradition as Sudbury leaders brought home the hardware once again!
This year, at the CIM-Caterpillar Celebration of Excellence, on Monday, April 29, 2019 at the Palais des Congrès de Montréal, Shannon Katary, Director of Marketing and Communications, Maestro Digital Mine, received the CIM-Bedford Canadian Young Mining Leaders Award, for exceptional achievement and potential of young Canadian mining leaders.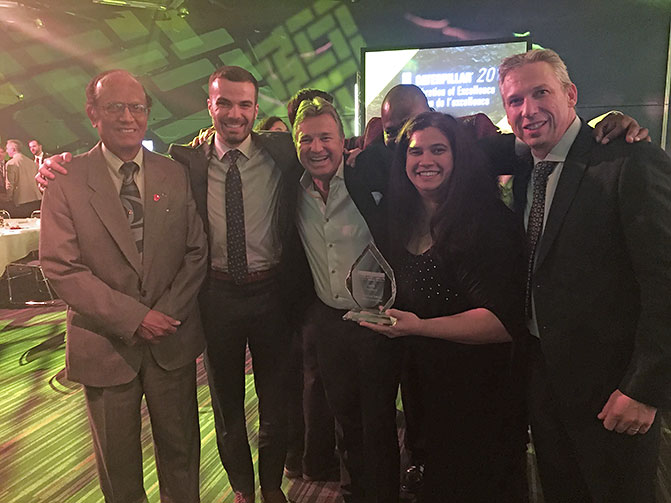 The CIM–Bedford Canadian Young Mining Leaders Awards encourages and accelerates the development of leadership in Canadian mining by recognizing outstanding achievement and potential of young Canadian mining leaders. It recognizes workers 39 years of age or under for exceptional achievement, as well as their potential for future leadership in various sectors of mining, including: corporate performance, operations, finance, technical services and innovation, marketing and trading, as well as services and support functions.
Shannon Katary is the Director of Marketing and Communications for Maestro Digital Mine. She is responsible for the creation and implementation of the marketing and communications strategy. As a senior member of the team, she manages and develops the strategic branding, technical writing (internal and external messaging), builds and strengths community and client relations, event coordination, photography, media and public relations for Maestro's digital solutions. Previously, she held the position of Vice President of Marketing and Communications for CEMI – Centre for Excellence in Mining Innovation and the Ultra Deep Mining Network (UDMN).
In her 13 years and counting in the mining industry, Katary has communicated, inspired and connected the world to the importance of mining. For Katary, accelerating the Canadian mining innovation advantage is a lifetime career and volunteer path where she gets to use her superpowers to communicate ideas into tangible commercially viable products and services for the global mining industry. She is at her core, a storyteller who bring the story to life!
She serves on a variety of volunteer organizations in her community such as Executive for MMTS - Modern Mining & Technology Sudbury, Executive for MECA Symposium and Dynamic Earth's Go Deeper Committee. She is a keynote speaker at various mining events such as the Women in Mining Northern Ontario Chapter. Has served on the Board of the Walden Mountain Bike Club (6 years). In 2009, she received the Civic Award for Volunteerism from the City of Greater Sudbury. In 2013, Shannon was awarded the Top 40 Under 40 Sudbury by Northern Ontario Business.
Shannon shared the stage with Elenor Siebring, Director of Environmental and Regulatory Affairs, Canada for Westmoreland Mining Holdings LLC; Darren Nathan, General Foreman of Operations and Maintenance for Raglan Mine – Concentrator, A Glencore Company; and Dr. Agus Sasmito, Assistant Professor in the Department of Mining and Materials Engineering at McGill University.

For a complete list of the 2019 CIM Awards winners visit: https://www.cim.org/awards/